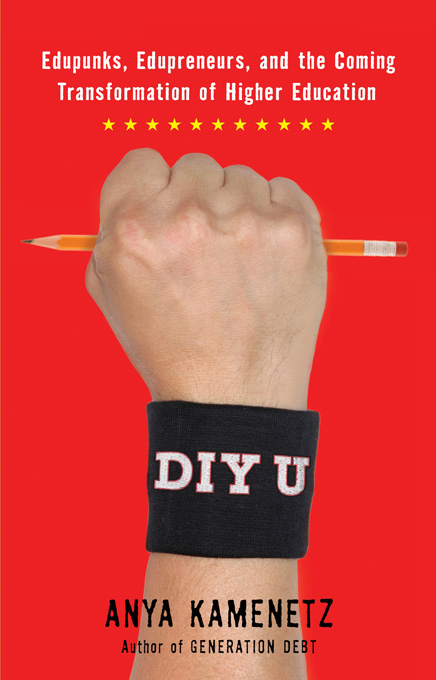 Anya Kamenetz's newest book, DIY U (to be released April 2010) explores the do-it-yourself model of university and education more generally that is rising in importantce. In a preview article written for Chelsea Green, she explores several trends that are well worth considering. Not all of these trends translate to the Canadian context completely but I think they still matter here. Here's a quote from the article on the four things Anya Kamenetz knows for sure about the future of higher education:
1. The promise of free or marginal-cost open-source content, techno-hybridization, unbundling of educational functions, and learner-centered educational experiences and paths is too powerful to ignore. These changes are inevitable. They are happening now. Innovative private colleges like Southern New Hampshire and for-profits like Grand Canyon, upstarts like BYU–Idaho and Western Governor's University, and community colleges like Foothill-De Anza represent the future.
2. However, these changes will not automatically become pervasive. Many existing institutions, especially those with the greatest reserves of wealth and reputation, will manage to remain outwardly, physically the same for decades, and to charge ever-higher tuition, even as enrollment shifts more and more toward the for-profits and community colleges and other places that adopt these changes.
3. In order to short-circuit the cost spiral, and provide access to appropriate education and training for people of all backgrounds, there is much hard work to be done in the way schools are funded and accreditation and transfer policies are set. College leaders need to have the will to change, as Chancellor Kirwan did at the University of Maryland, recognizing the central importance of efficiencies and changing the relationship between universities and their funders. Political leaders need to legislate change, as Senator Dick Durbin is by calling for open textbooks, and Bob Shireman by proposing to link funding for student loans to a college's proportion of Pell-eligible students. Above all, learners and their families need to recognize that alternatives to the status quo exist and demand change.
4. The one thing that can change dramatically and relatively swiftly is the public perception of where the true value and quality of higher education lies. It's no longer about the automatic four-year degree for all. Institutions can't rely any more on history, reputation, exclusivity, and cost; we now have the ability to peer inside the classroom as professors are lecturing and see students' assignments published to the world. So we have both the ability and the obligation to look at demonstrated results.
Libraries and librarians are not mentioned anywhere, so some interpretative work is needed to make sense of this. Firstly, the prospect of "unbundling of educational functions" could be bad news for libraries. If the academic experience is broken down into a set of experiences unrelated to each other, much will be lost including some of the historical reasons for academic libraries. One possible future of the academic library might be to position itself as a student's home base through their studies; they may take many different courses with different instructors but they will always have a librarian to turn to. Another option is to seek deeper connections with instructors and make the case that library skills in research and evaluation of information are crucial to both academic study and long term success. Kamenetz sees a future with a greater emphasis on outcomes, skills and projects. I think librarians are well posed to meet that change.